☑️Vote for the Buncombe County Schools Foundation to win one of 12 grants being awarded by The Community Betterment Foundation in honor of the Asheville Area Chamber of Commerce's 125th Anniversary! Through July 31, you can support Buncombe County Schools Foundation in its mission to build a strong and dynamic foundation for Buncombe County Schools students and educators. Please vote for the Foundation once a day to win one of twelve $10,000 grants in partnership with the Asheville Chamber of Commerce. There is strength in numbers; together, we are more through this powerful collaboration- "Building Community Through Business." Vote once a day to support BCS students, educators, and faculty. Follow this link:
https://woobox.com/hsn3i5
Learn more:
https://www.ashevillechamber.org/.../celebrating-125-years/

Breakfast and lunch will be provided at no cost to all students next school year! We are pleased to inform you that Buncombe County Schools will be implementing a program available to schools participating in the National School Lunch Program and School Breakfast Programs called the Community Eligibility Provision (CEP). We will also implement Universal Meals at Nesbitt Discovery Academy (NDA). What does this mean for you and your child(ren)? Great news! All enrolled students at Buncombe County Schools are eligible to receive a healthy breakfast and lunch at school at no cost to your household each day of the school year. Parents (except those with students at NDA), there are no action steps for you to take at this time to participate in this program. We look forward to serving your students beginning August 28, 2023. NDA parents will receive separate instructions regarding Universal Meals. If you have any questions about this letter, please contact us at Buncombe Schools Nutrition Office, 828 255-5932.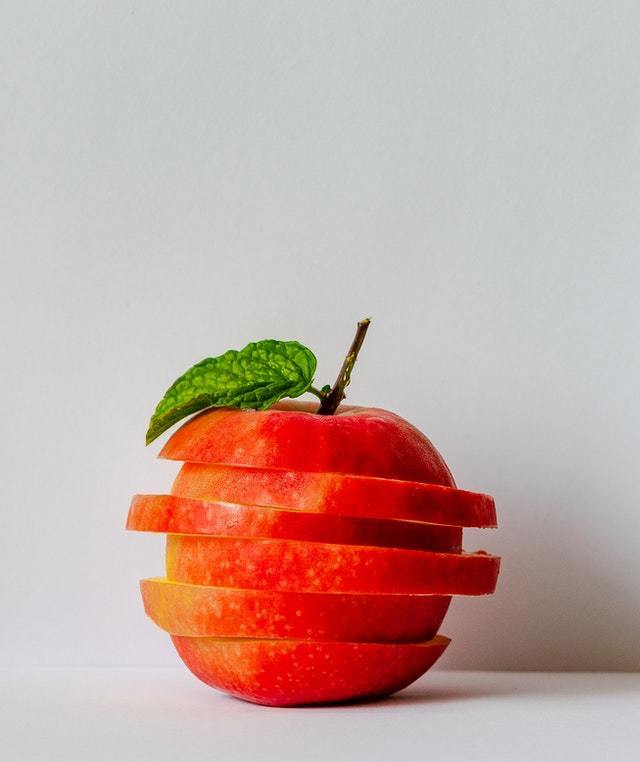 Kindergarten Tours are happening the rest of the month of March. Don't miss this great opportunity to get to know your community school and see why Buncombe County Schools is the best choice for your child. Learn more about enrollment:
https://www.buncombeschools.org/o/bcs/page/enrollment

We invite everyone to tomorrow's welcome reception for Dr. Jackson! We are excited to be able to host this event for him at Nesbitt Discovery Academy from 2pm-4pm.

All Buncombe County Schools will operate on a two-hour delay for students tomorrow, January 13.

​The BCSF Board is happy to announce that Scholarship Season has begun! The Board provides over $300,000 in scholarships each year. This year we are proud to introduce a new online program, AwardSpring. We are excited that students will be able to complete their applications online. The SMART Scholar Scholarship Program is new this year. The purpose of this program is to provide financial support to graduates entering the Skilled Trades areas. Please see information on the scholarship page for more information on this scholarship. Also, a new scholarship was created for Buncombe County Schools Employees who have children graduating from a BCS school. The Foundation supports the employees who make BCS a great place to work. Information about all scholarship can be found on the Buncombe County Schools Foundation Website. For questions or more information please email
bcsfoundation@bcsemail.org
or call ​828-255-5969.

Buncombe County Schools Foundation Announces Spring Grants! The Innovative Educator Grant Application is now open. Please see the Foundation's Webpage for more information. Grants are for all BCS Educators! Grant Application Link:
https://forms.gle/81XHvVZbqZSMNcgXA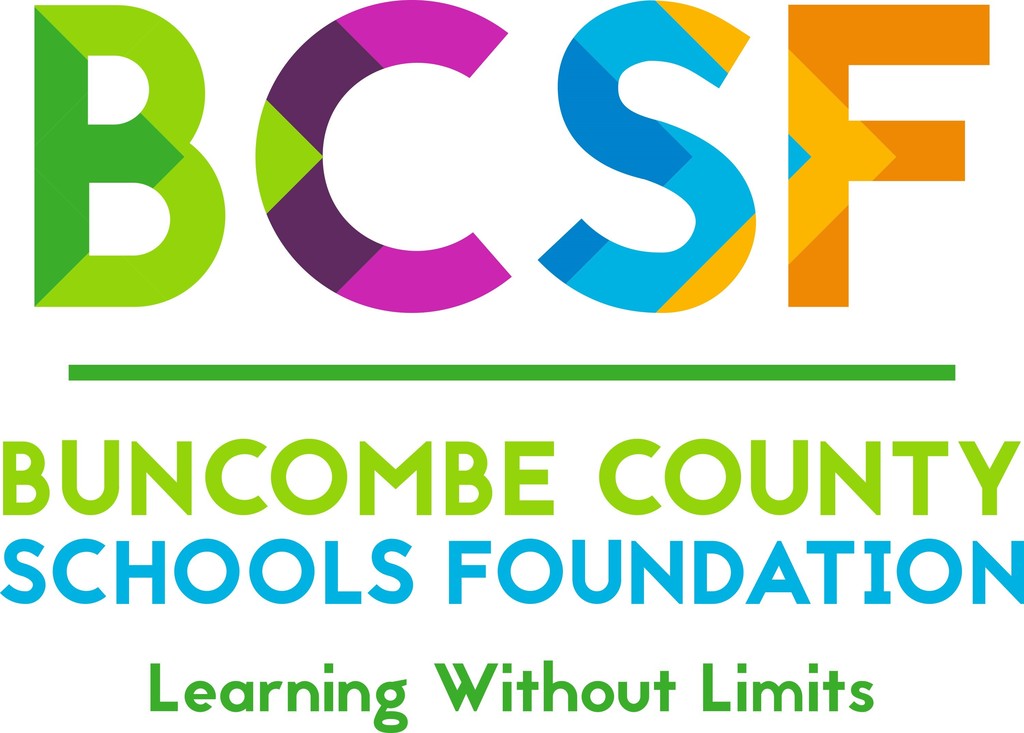 Buncombe County Schools 2022 Teacher of the Year Jenny Zimmerman of North Buncombe High School's shares gratitude for grant funds awarded to support the purchase of new books for her students this school year. "Thanks to the Buncombe County Schools Foundation I was able to purchase new, engaging, and current reads for my kids and help a few new teachers start their own class libraries! I am so proud of these students and all NB teachers and students who keep the love of reading alive daily!"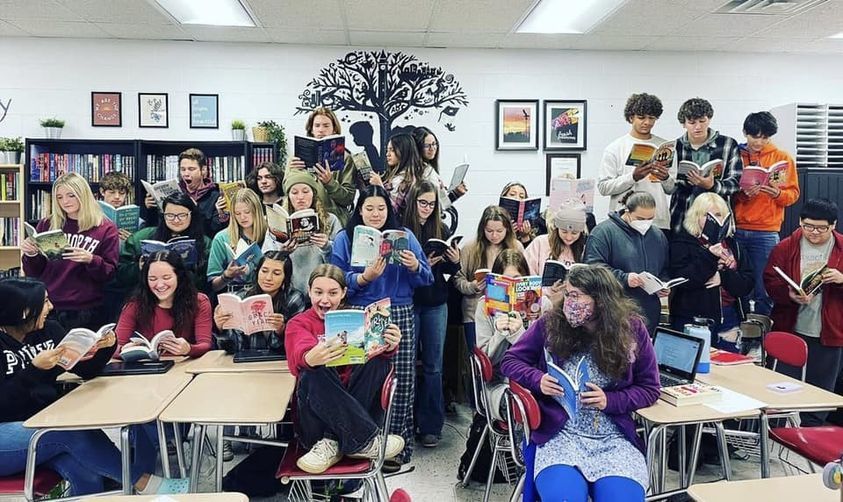 Fairview Elementary School STEM Lab Coordinator Melissa Spruill received a grant from BCSF to buy Connetix magnetic building tiles. The magnets help younger kids create complex shapes that don't fall easily, which is important as they collaborate while working on fun challenges using the Engineering Design Process - "Ask, Imagine, Plan, Create, and Improve." Thanks to all of our donors and sponsors who help make grants for our Buncombe County Schools students and teachers possible. This is learning without limits!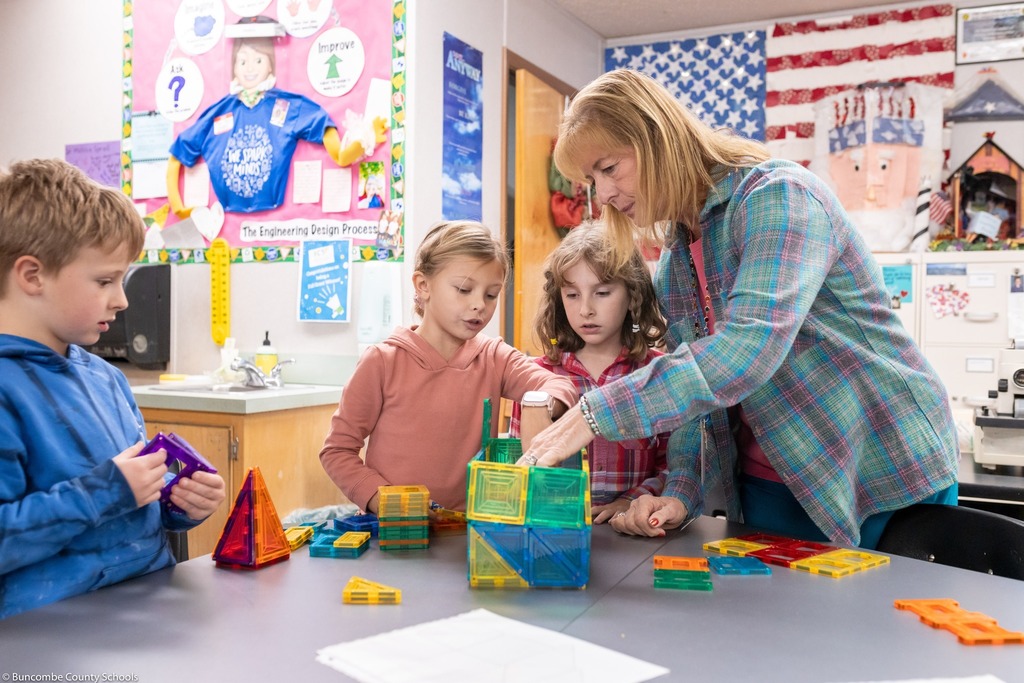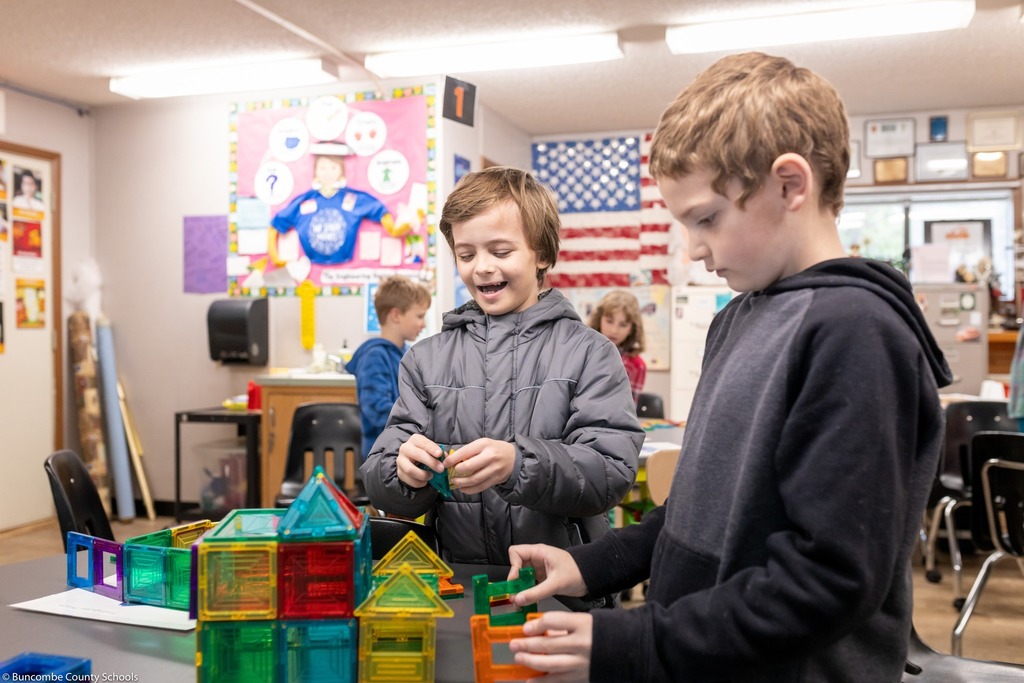 Attention Seniors! SECU Foundation's People Helping People scholarship application is available now. The SECU Foundation established the People Helping People four-year scholarship program to help North Carolina public high school students attend college. Each of the 115 North Carolina Local Education Agencies (LEAs)/School Districts will receive a minimum of one scholarship valued at $10,000 payable at $1,250 for up to eight consecutive semesters for a senior to attend one of the 16 constituent campuses of the University of North Carolina System. Speak with your high school counselor for more information about applying, requirements, and deadlines. You can also visit this link:
https://bit.ly/3Z6XquQ

Buncombe County Schools Foundation Announces Partnership with EdenBrothers.com! EdenBrothers.com is an online seed retailer based here in Arden, North Carolina that sells vegetable, flower and herb seeds and bulbs. View the link below to find the form that 100 BCS Educators are able to complete to sign up for a gift certificate that can be used online at EdenBrothers.com We are so excited to promote this partnership and help "Grow Minds and Plants" in Buncombe County Schools. Please see the flyer for more information.
https://5il.co/1i0wz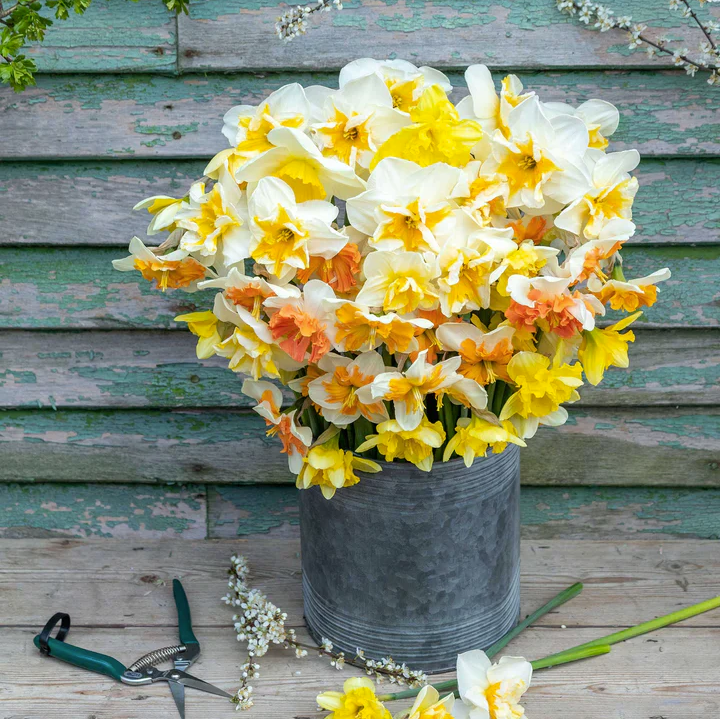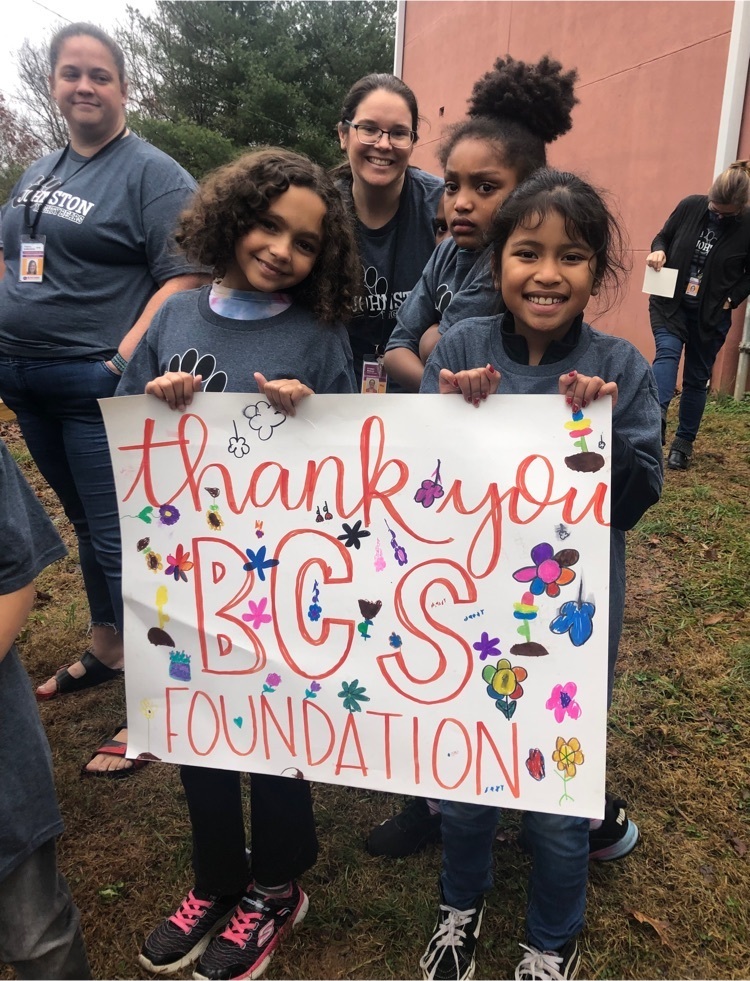 Thanks to a grant from the Buncombe County Schools Foundation, Ms. Megan Sanders has new hot plates and glassware for her classroom, and her AP Chemistry students are putting the equipment to good use at T.C. Roberson High School. On Dec. 1, they created starch-Iodine clocks to visualize how heat and reactant concentrations change the rate of chemical reactions. When they mixed two colorless liquids, nothing seemed to be happening until the solution suddenly turned dark blue. The students experimented with different concentrations of each chemical. In some iterations, they heated one or both reactants before mixing them. Then they recorded how long it took for the solution to turn blue. After being selected as a BCSF fall grant winner, Ms. Sanders bought eight new graduated cylinders and two hot plates. She's sharing the equipment with the rest of the science department – from chemistry to physical science to biology.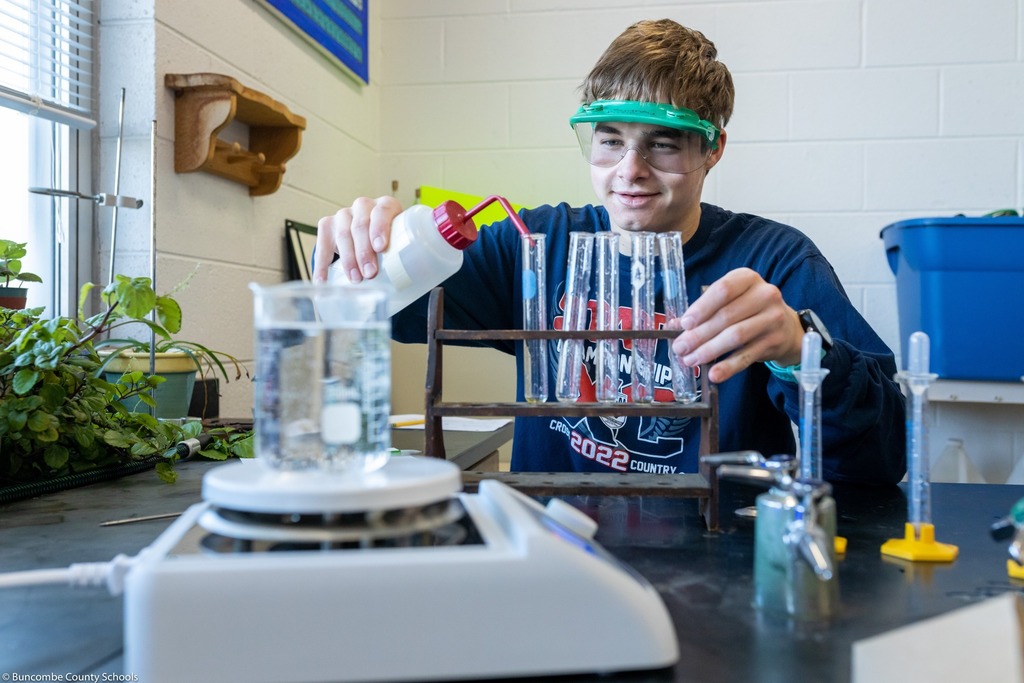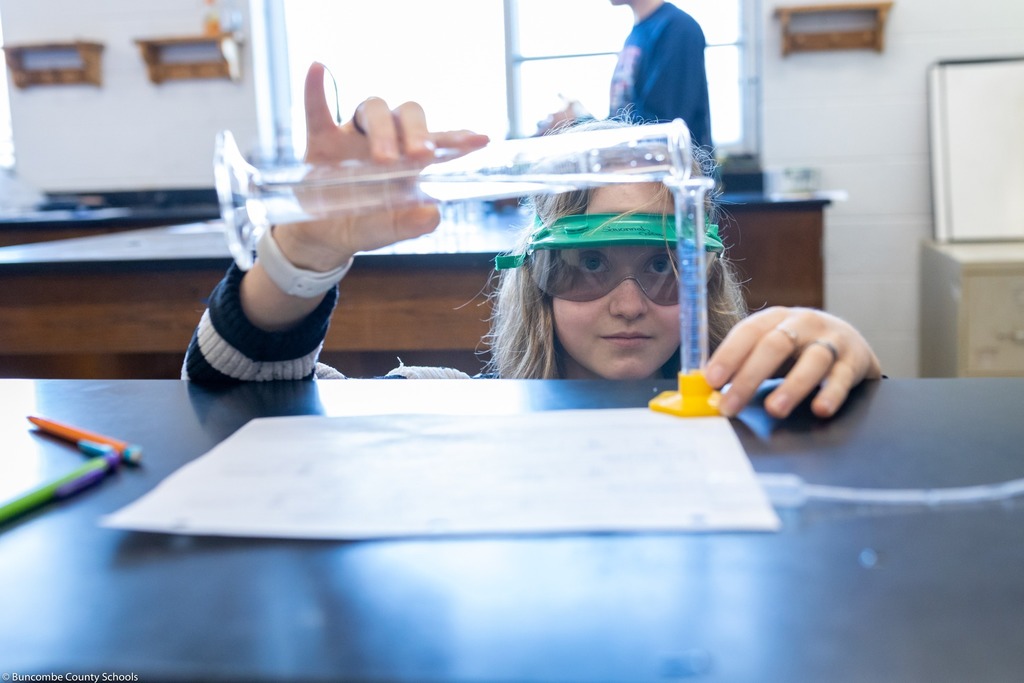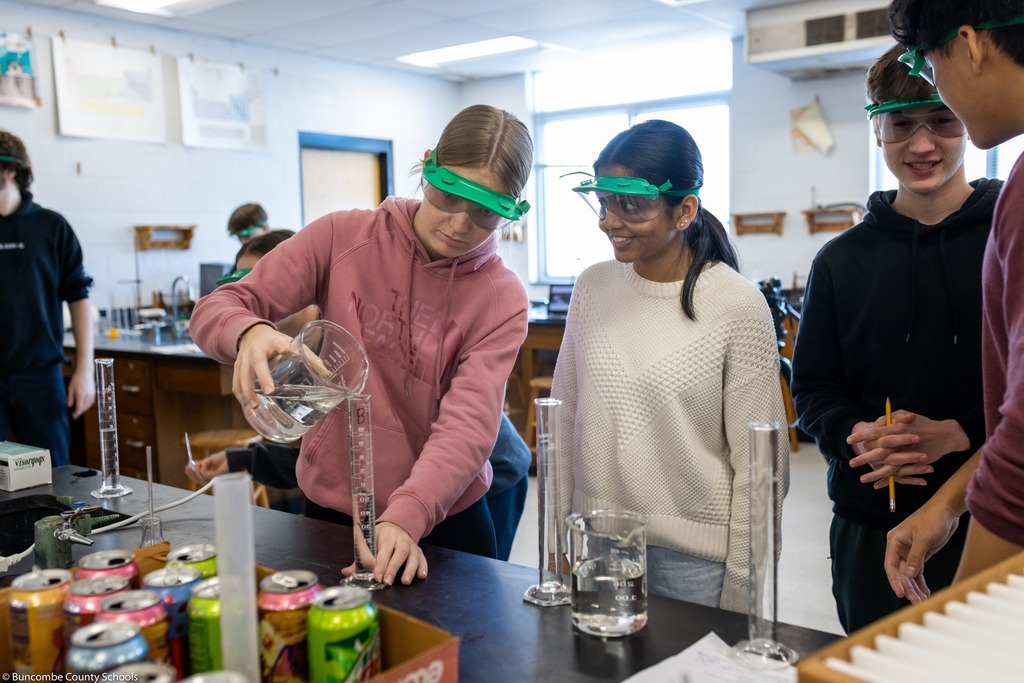 We're thankful for our students, teachers, families, and staff who make our schools shine every day! May you have a safe and restful Thanksgiving holiday. 🦃🍊🍁🍂❤️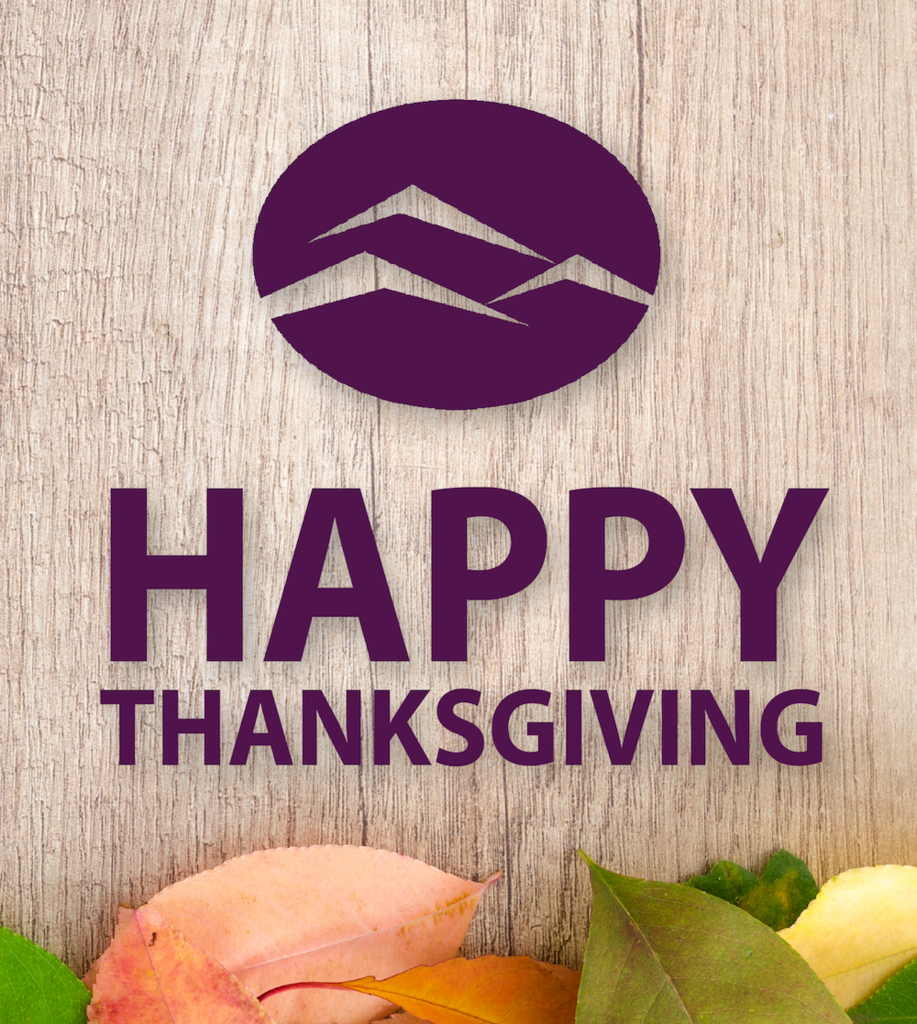 Thanks to Ingles Markets, our #BCSHeroes program is back. Every quarter, we will be drawing names of current staff and giving the lucky winners an Ingles gift card. Did you hear your name today? Click this link to watch this exciting event!
https://fb.watch/gHJaipsKKx/

Talk about a days work! Special thanks to Dana Jones and Dan Anderson Buncombe County Schools Foundation Board members who built a garden for Johnston Elementary Buncombe County Schools. Seeds grow fruits and vegetables and schools sow seeds of greatness. Love doing great work for students!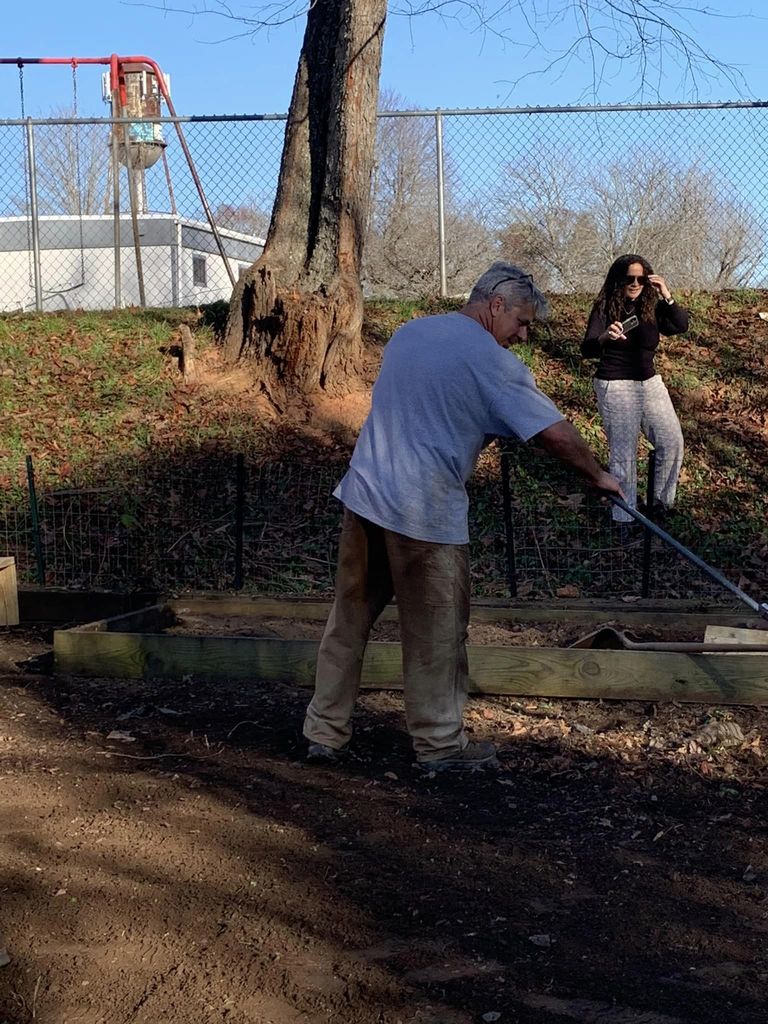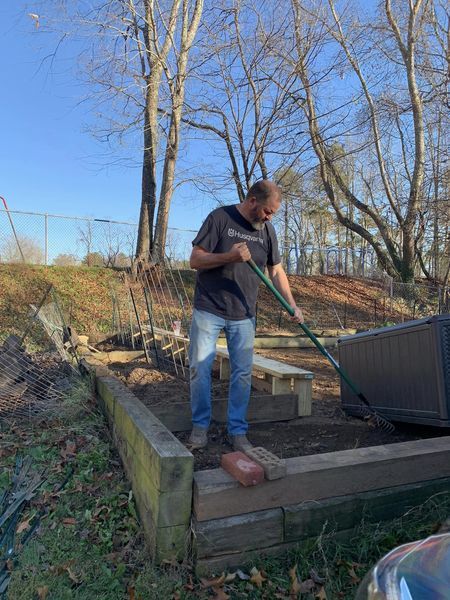 Buncombe County Schools serves over 23,000 students from all walks of life. Achievement is different for each child and their needs must be addressed accordingly. Buncombe County Schools Foundation plays a greater role in BCS funding than any other time in its 38-year history by raising funds from public, private, and corporate donors to support a wide range of programs and opportunities designed to give students and teachers what they need to succeed. While the school system does an extraordinary job working to meet these needs, it takes our entire community to help support these efforts. We encourage all who value education to imagine what may be possible when all students learn without limits. Learn more about our work supporting BCS students, teachers, and staff and make a donation if you're able at foundation.buncombeschools.org/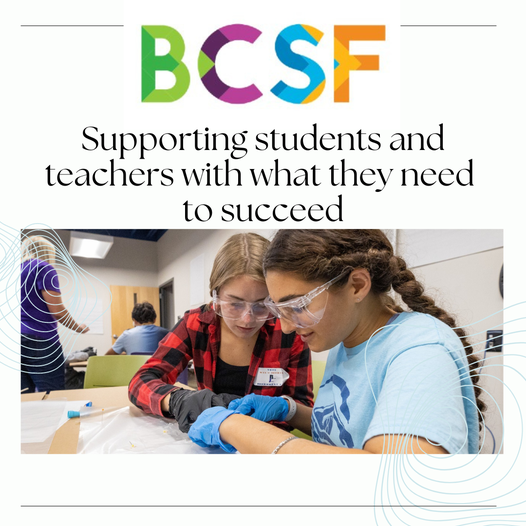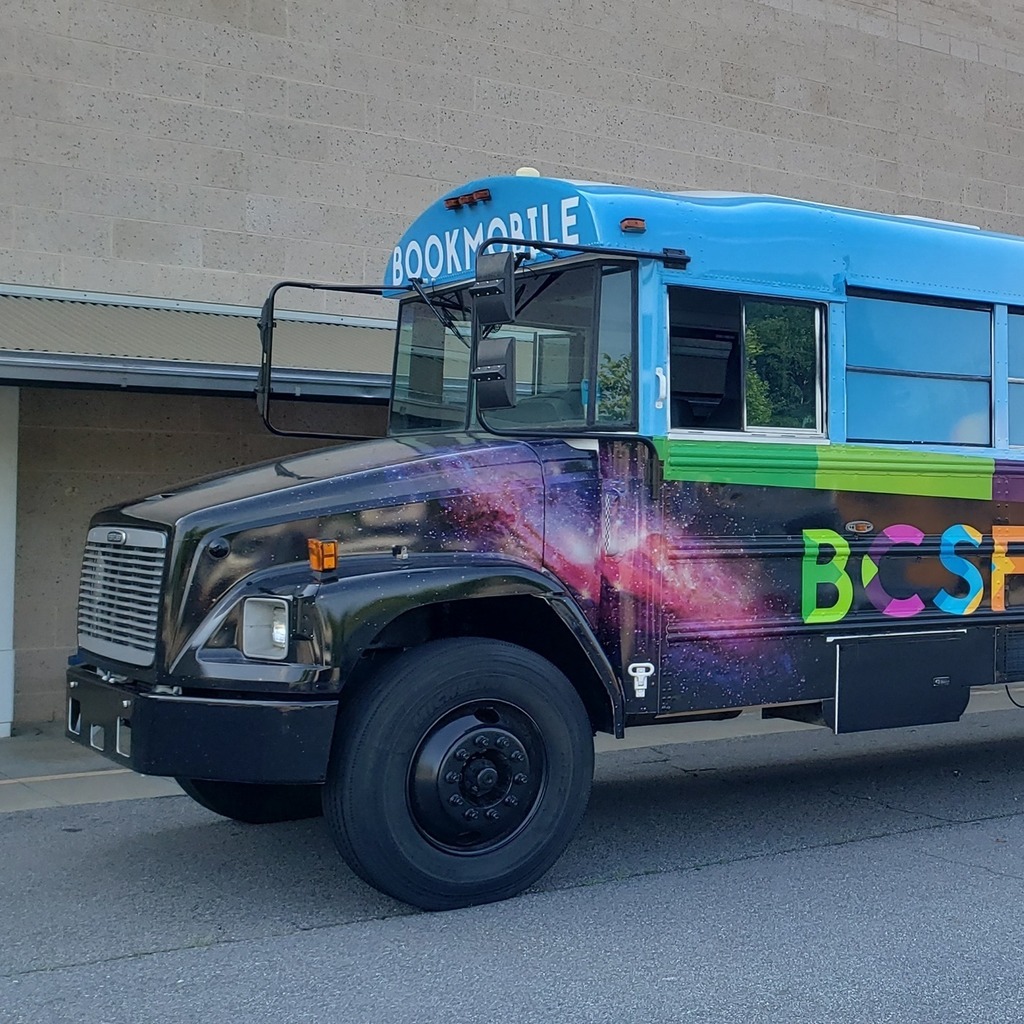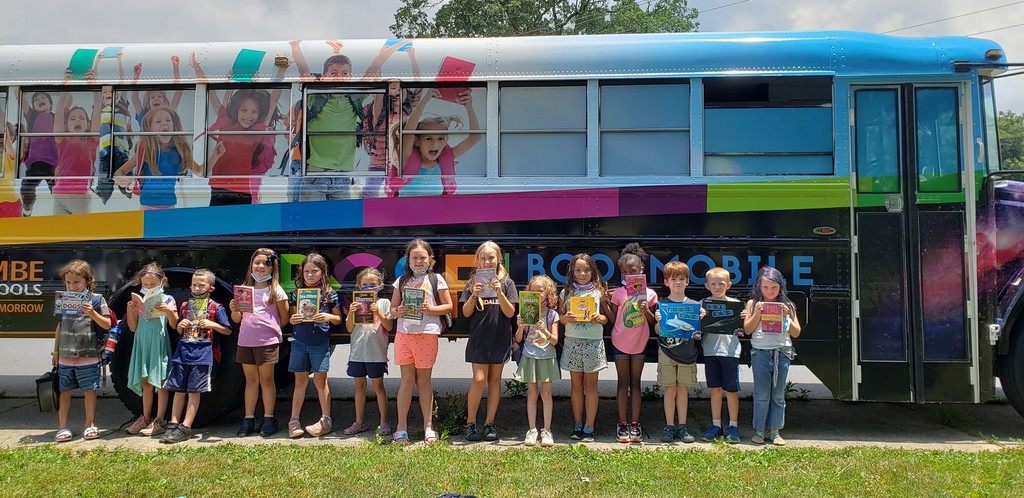 Our BCS Bookmobile is on the road each week bringing our BCS students a full range of books to explore. This mobile classroom on wheels ensures Pre-K Early Learning Centers, Buncombe County Schools students, and the families of Buncombe County have literacy materials It's Monday, so here is today's schedule! 8:30 am ~ N.Buncombe Preschool 9:30 am ~ Weaverville Head Start 10:30 am ~ Erwin Preschool/All God's Children 1:00 pm ~ Lake Louise* 2:00 pm ~ Childcare Network / Weaverville